• L.A. Guns • Todd Kerns • Tracii Guns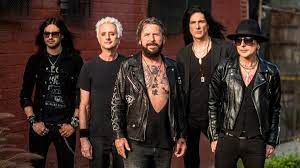 Blackbird Angels — founded by guitarist Tracii Guns (L.A. Guns) and bassist/vocalist Todd Kerns (Slash, Toque, Heroes and Monsters)–have announced the upcoming release of their debut album, SOLSORTE, on September 8, 2023. The first single and video from the album, "Shut Up (You Know I Love You)," are out today. Watch a video for "Shut Up (You know I Love You)" here.   Pre-order/save SOLSORTE here. "Todd and I have wanted to make a record for about 10 years now and we finally did it and it's everything I hoped for," declares Tracii Guns. "With the addition of Adam Hamilton it's pure magic. For live performances, Johnny Martin will...
---
• Black Diamonds • Cocked & Loaded • coffee • coffee beans • L.A. Guns • L.A. Guns Coffee • Tracii Guns
WRITERS & ROCKERS COFFEE COMPANY is pleased to announce their new partnership with the Sunset Strip hard rockers, L.A. Guns on two premium signature coffees. To celebrate the upcoming release of their latest studio album, "Black Diamond," Tracii Guns and Robert Young from Writers & Rockers Coffee collaborated on the appropriately titled "Black Diamonds Coffee." "Tracii is a serious coffee drinker and knows a great cup of coffee," said Young. "This coffee, like their new album really kicks it. Tracii chose an awesome Guatemalan Antigua coffee bean and roasted them so dark, they actually look like Black Diamonds." The second...