• coffee • coffee beans
Before answering this question, you should know that coffee beans come in different criteria that can affect their density and overall weight. As a result, not all coffee beans are created equal.According to a lot of variables, coffee beans can have different ratios of internal ingredients. Also, it can have different levels of moisture and more. Also, people enjoy different kinds of coffee ranging from mild to strong and bitter ones.So, the exact number of coffee beans in a single cup depends on a lot of aspects. For the sake of argument, let's consider the most average cup of coffee....
---
• Andy Curran • Carl Dixon • coffee • coffee beans • Coney Hatch • Dave Ketchum • Guatemalan Antiqua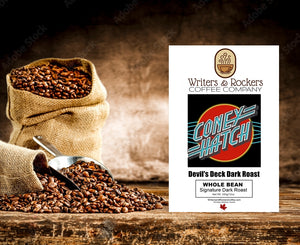 Classic Rockers, Coney Hatch has teamed up with Writers & Rockers Coffee Company in launching their own signature dark roast coffee titled Devil's Deck Dark Roast.This Signature Dark Roast features the ever popular Guatemalan Antiqua Fair Trade Organic Coffee Beans. Guatamalan Fair Trade Organic coffee beans have a bright acidity and a smooth rich body. The earthy flavours of this pure arabica coffee come from the region's excellent soils and growing conditions.Coney Hatch was formed in Toronto in 1980 and is named after the infamous lunatic asylum in Britain (spelt Colney Hatch) that bass player Andy Curran's parents had lived near before...
---
• coffee • coffee beans
Extraction is arguably the most important and least understood aspect of coffee brewing. Put simply, extraction is the method of pulling the flavor from your coffee beans. It's the magic that turns water and beans into a beautiful beverage. As water passes through the grounds, it dissolves all sorts of compounds that end up in your cup. But this is where things get tricky. Some of those compounds taste great, but others are kind of nasty. To get the good ones, and the right amount of them, you need to properly extract your coffee, meaning that the water dissolves the right stuff, and the...
---
• coffee • coffee beans
There are a lot of reasons to love cold brew. Unlike iced coffee, you can control the concentration so that you don't end up with a diluted drink.And since the grounds aren't subjected to heat, cold brew has a different chemical profile than coffee made with hot water. This results in lower levels of acidity, which means a smoother cup that's more mellow on the stomach.Cold brew is popping up everywhere from local cafes to national chains, but it's also easy (and cheap) to make at home. Just follow these simple steps. What You NeedCoarsely ground coffee. This is important....
---
• coffee • coffee beans
We know you appreciate the best cup of coffee possible. You've got a good start with Writers & Rockers Coffee beans, but you have to store them properly to maximize their freshness and flavour. Keep beans airtight and coolWriters & Rockers Coffee beans' greatest enemies are air, moisture, heat, and light.So to preserve your beans' fresh roasted flavor as long as possible, store them in an opaque, air-tight container at room temperature. We know our beans are can be beautiful, but avoid clear canisters which will allow light to compromise the taste of your coffee. Keep your beans in a dark...