• coffee • coffee beans • cold brew • concentrated coffee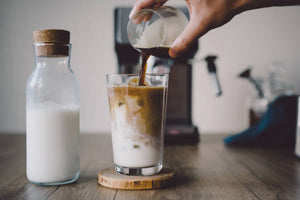 Concentrated coffee has various uses and can be quite versatile. Here are a few common applications for concentrated coffee: Diluted coffee: The most straightforward use of coffee concentrate is to dilute it with water or milk to make a regular cup of coffee. By adding hot water or steamed milk to the concentrate, you can quickly prepare a flavorful cup of coffee. Iced coffee: Coffee concentrate is excellent for making iced coffee. Since it's already concentrated, you can pour it directly over ice and dilute it with cold water or milk. This method ensures that your iced coffee won't become...
---
• coffee beans • cold brew • concentrated coffee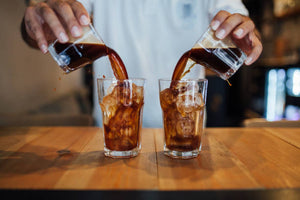 To make coffee concentrate, you can use a method called cold brewing. Cold brewing extracts coffee flavors from the beans slowly and creates a concentrated coffee that you can dilute with water or milk to make your desired strength of coffee. Here's how you can make coffee concentrate using the cold brewing method: Ingredients: Coarsely ground coffee beans Filtered water Instructions: Measure the coffee: Start by measuring the desired amount of coarsely ground coffee. A good starting point is a ratio of 1 part coffee to 4 parts water, but you can adjust this ratio to your preference. Combine coffee...
---
Whoever said your morning coffee couldn't be cool summer treat too was so out to lunch, we can't even. This milkshake just might bring the Kids to your backyard. Not to be confused with a traditional Affogato, this Queen City Kids' delectable summer treat is a dessert and drink all in one. And, the recipe couldn't be any easier. Ingredients: ½ cup of Queen City Kids' Dance cold brew Vanilla bean ice cream 1/4 cup of milk Chocolate Syrup dark chocolate bar (grated) Whipped Cream Directions: Line a tall glass with chocolate syrup Place 2-3 scoops of vanilla ice cream...
---
• coffee • coffee beans • cold brew • Todd Kerns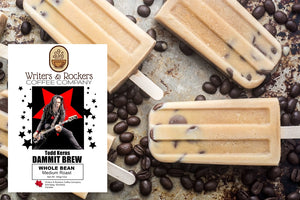 When it's hotter than a Slash lick outside and you're in desperate need of some Kerns' Koolness, suck on one of these Iced Dammit Mocha Pops for a rockingly sweet summer treat. This popsicle recipe, developed in our own secret Writers & Rockers Flavour Compound combines everyone's three favourite things—Todd Kerns, Dammit Coffee and oh yeah, chocolate. Ingredients: 2 cups of Todd Kern's Dammit cold brew (brewed in advance – see below) ¼ cup sweetened condensed milk 6-8 tablespoons dark chocolate chips Popsicle sticks Popsicle mold Directions: Mix sweetened condensed milk and the Dammit cold brew in a separate glass...
---
• cold brew • Harlequin • Latte • Sweet Things In Life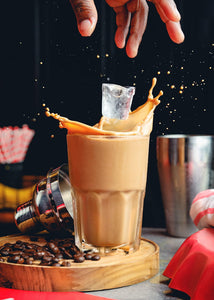 Now that one of the worst winters ever is finally gone it's time to enjoy the Sweet Things In Life. This cool iced drink, Harlequin's Sweet Things In Summer Latte is definitely going to rock your summer. We've transformed this coffee shop favorite into our own signature Writers & Rockers cool summertime beverage using the bourbon infused vanilla bean flavour of our popular Sweet Things In Life Coffee Blend. To make this awesome summer drink you'll need to use a cold brew Sweet Things In Life concentrate. Luckily, making cold brew at home is simple with Writers & Rockers Coffee....