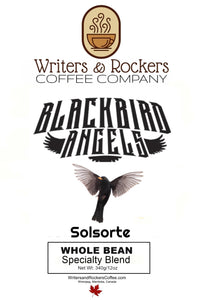 Blackbird Angels' Solsorte - Limited Edition
Regular price
$15.00
$0.00
Unit price
per
Introducing Blackbird Angels: A Harmonious Fusion of Flavor and Attitude
Prepare to experience the ultimate coffee symphony with Blackbird Angels – a dark roast coffee blend that beautifully merges Todd Kerns' iconic medium roast Dammit Blend with the intense flavors of L.A. Guns' dark roast Black Diamond Blend. This unique collaboration brings together the best of both worlds, creating a coffee experience that's as unforgettable as a rock 'n' roll anthem.
The Perfect Medley: Like a perfectly orchestrated song, Blackbird Angels combines the rich, full-bodied character of Dammit Blend's medium roast with the dark and intense notes of Tracii Guns' Black Diamond Blend. Each sip is a harmonious medley of taste that dances on your palate.
Boldness and Balance: The dark roast magic of Blackbird Angels strikes a balance between boldness and subtlety, offering a deep, velvety cup that's brimming with layers of flavor. Dark chocolate, smoky undertones, and delicate hints of caramel create a symphony of taste that captures your senses.
Crafted for Coffee Lovers: Crafted with unwavering attention to detail, Blackbird Angels exemplifies the dedication of both Todd Kerns and Tracii Guns to their craft. Each coffee bean is roasted to perfection, ensuring that you experience the full spectrum of flavors with every brew.
Elevate Your Moments: Whether you're seeking inspiration, need a pick-me-up, or simply want to indulge in a moment of pure pleasure, Blackbird Angels is the perfect companion. Elevate your coffee rituals and let each sip transport you to a realm of exceptional taste.
Inspired by Legends: This blend is a tribute to the legendary music that has left an indelible mark on hearts and souls. With every cup of Blackbird Angels, you're not just savoring coffee – you're celebrating the spirit of rock 'n' roll.
A Melody of Ethical Sourcing: Blackbird Angels embodies a commitment to responsible sourcing. With components from both Todd Kerns' Dammit Blend and L.A. Guns' Black Diamond Blend, you're contributing to sustainable practices and supporting coffee-growing communities.
Limited Edition Symphony: Like a special live performance, Blackbird Angels is a limited edition offering that won't last forever. Don't miss the chance to immerse yourself in this harmonious blend and own a piece of this extraordinary coffee collaboration.
Elevate your coffee experience with Blackbird Angels. Order your bag today and let every sip be a celebration of the rock 'n' roll spirit, exceptional taste, and the fusion of two legendary blends. Taste the harmony – because great coffee, like great music, is meant to be cherished.
Available in 340g/12oz resealable bags
Blackbird Angels, the new project founded by guitarist Tracii Guns (L.A. GUNS) and bassist/vocalist Todd Kerns (Slash, Toque, Heros & Monsters),will release its debut album, "Solsorte", on September 8 via Frontiers Music Srl.
Guns comments: "Todd and I have wanted to make a record for about 10 years now and we finally did it and it's everything I hoped for. With the addition of Adam Hamilton, it's pure magic. For live performances, Johnny Martin will play bass and Sam Bam Koltun will play guitar."
Kerns adds: "I've always been a great admirer of Tracii's. When he approached me about this project, we were still in the throes of the pandemic and I really felt this deep need to make as much music as possible while we were all facing such an uncertain future. The record turned out to not only be a cathartic experience, it became some of my favorite music I've ever been a part of. It's raw, it's real and it rocks. I'm super excited for people to hear it."

---