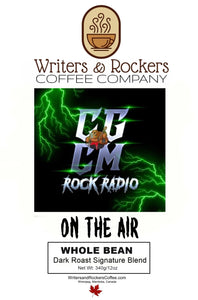 CGCM Radio - On The Air
Regular price
$15.00
$0.00
Unit price
per
CGCM Radio - "What Rock Radio Should Be!"
Tired of corporate cookie-cutter radio? Tired of hearing the same repetitive overplayed hits over and over?
CGCM Rock Radio
is just what you are looking for. A 24/7 hard rock/metal station owned and run by a global team of passionate metal heads hell bent on sharing all that rock and metal has to offer. Classic hits? They got 'em! Deep Cuts? They got 'em? New Artists? We find them and we play them too!
Some might claim rock is dead but CGCM ROCK RADIO proves otherwise! 
Not only do these guys know ROCK, but they also know Damn Good Coffee. Their Dark Roast Signature Blend, On The Air is not for the faint of heart. It has a has a velvety feel that is full in body. The addition of Guatemala Antigua in this blend adds a nice zing from the bright, citrusy acidity. It has a chocolatey base with strong layers of caramel.
340g/12oz
---