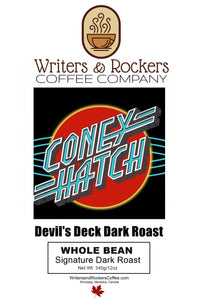 Coney Hatch - Devil's Deck Dark Roast
Regular price
$15.00
$0.00
Unit price
per
Unveiling Coney Hatch's Devil's Deck: Where Bold Flavor Meets Rock 'n' Roll Spirit
Step into the world of Coney Hatch's Devil's Deck Dark Roast Coffee – a blend that marries the intensity of dark roast coffee with the timeless energy of rock 'n' roll. Crafted with precision and passion, this coffee is a tribute to the legendary band's spirit and their unwavering commitment to pushing boundaries.
Dark Roast Harmony: Just like the chords of a guitar, our dark roast transforms the essence of coffee beans into a symphony of boldness. Devil's Deck offers a full-bodied, robust profile that's perfect for those who crave depth and intensity in every cup.
Unleash the Flavor: Immerse yourself in a medley of flavors that mirror the complexities of music itself. Notes of rich chocolate, smoky undertones, and hints of caramel create a composition that's both harmonious and dynamic on your palate.
Craftsmanship with a Twist: Devil's Deck Dark Roast Coffee is a testament to the dedication of Coney Hatch to their craft. Each coffee bean is carefully selected and roasted to perfection, ensuring you experience the full spectrum of flavors and aromas.
Elevate Your Ritual: Whether you're greeting the morning sun, seeking inspiration during a creative session, or winding down after a hectic day, Devil's Deck Dark Roast Coffee amplifies every moment with its bold character and invigorating taste.
Inspired by Music Legends: Infused with the essence of Coney Hatch's music, this coffee blend captures the band's soul and energy. Let each cup be a tribute to the timeless melodies that continue to captivate hearts and spirits.
For the Rock 'n' Roll Soul: Devil's Deck isn't just a coffee – it's an experience. It's a taste of the rock 'n' roll soul that lives within you, a reminder to embrace life's passions and pursue greatness.
Elevate your coffee experience with Coney Hatch's Devil's Deck Dark Roast Coffee. Order your bag today and let every sip be a celebration of bold taste, rock 'n' roll attitude, and the eternal quest for excellence. Embrace the darkness, embrace the flavor – because life, like coffee, is meant to be savored to the fullest.
Coney Hatch formed in Toronto 1980, named after the infamous lunatic asylum in Britain (spelt Colney Hatch) that Andy Curran's parents had lived near before emigrating to Canada. In 1981 an ad was placed in the Toronto Star looking for a singer guitarist to join a working band. Carl Dixon joined Andy Curran, Dave Ketchum, Steve Shelski and on they went to release a kickass debut album in 1982 produced by Kim Mitchell, that still resonates today.
The Hatch toured with some of the biggest names in rock opening for Iron Maiden and Judas Priest. Music videos for Fantasy and Devils Deck were featured on MTV and Hey Operator broke into top 20. 
A few reunion gigs in the 90s kept the guys connected. In 2008 Carl Dixon was nearly killed in a car accident in Australia. Andy Curran spoke through the phone to Carl while Carl lay in a coma, it seemed Carl would not survive. Andy told Carl "the Hatch still has more rocking to do, you gotta survive"
They both kept the bargain! Carl incredibly survived the automobile accident with many serious injuries and now sports numerous titanium implants. The four reunited to produce what many say is their best album yet in 2013, CONEY HATCH FOUR. It was voted into the UK's top 50 rock albums of 2013 by Classic Rock magazine.
In 2018 the Hatch line up changed, with Sean Kelly breathing new life into those brilliant riffs.
12oz/340g
---