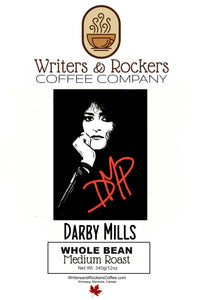 Darby Mills Project
Regular price
$15.00
$0.00
Unit price
per
A Rock-Inspired Brew as Bold as Her Voice
Experience the essence of rock 'n' roll in every sip with Darby Mills' Coffee Blend. Crafted in honor of the iconic female classic rock singer herself, this blend captures the spirit of her music – bold, timeless, and unforgettable. With a rich combination of meticulously selected coffee beans, Darby Mills' Coffee Blend is a symphony of flavors that will resonate with both coffee and music enthusiasts alike.
A Tribute to Darby Mills: Darby Mills' Coffee Blend pays homage to the powerful voice that has graced the stage and captured hearts for decades. Just as her music brings soul-stirring melodies, this blend aims to ignite your senses with every cup.
Bold and Memorable: Much like Darby Mills' performances, this coffee blend is designed to leave a lasting impression. The combination of beans showcases depth, character, and a boldness that reflects her artistry.
A Fusion of Flavors: Darby Mills' Coffee Blend features a fusion of carefully sourced coffee beans that harmonize to create a complex and satisfying flavor profile. Each bean is roasted to perfection, resulting in a symphony of tastes that range from rich and robust to subtle and nuanced.
A Journey of Taste: Immerse yourself in the journey of Darby Mills' Coffee Blend. As you take each sip, let the flavors transport you to the heart of the music, where passion and creativity collide.
Crafted for Excellence: Our master roasters have poured their expertise into creating a blend that captures the essence of Darby Mills' artistry. Each batch is a testament to our commitment to delivering an exceptional coffee experience.
Elevate Your Brew: Whether you're enjoying a quiet moment of reflection or blasting your favorite rock anthem, Darby Mills' Coffee Blend is the perfect companion. Let it fuel your mornings, inspire your days, and accompany you on your journey.
Unleash Your Inner Rockstar: Embrace the synergy of music and coffee with Darby Mills' Coffee Blend. Indulge in the flavors that echo the passion and talent of the classic rock singer herself. It's more than coffee; it's an experience that rocks your senses.
Darby Mills set out with some high school buds at 16 years old to take the stage for the first time. By 18, she was on the road singing in club bands across Western Canada. 1980 she joined the Headpins and headed off across North America and Europe, sharing the stage with such legends as ZZ Top, Whitesnake, Eddie Money, KISS, Brett Michael's, Nazareth, Richie Blackmore, Quiet Riot, Loverboy and many more.
36 years later, in 2016, Darby redefined herself by starting again with the Darby Mills Project (DMP). 5 years in, she's released 2 new CD's, obtained a worldwide distribution deal, produced 4 new videos and collaborated for a wonderfully informative documentary produced for Telus On Demand.
Now in her 60's, Darby's finding a love for those fabulous old songs from childhood and hopes to be singing them for years still to come.
Darby helped create this unique blend of perfectly roasted Colombian and Guatemalan Arabica coffee beans. It is a sharp but delicate mid to dark blend with intricate flavours. The more you drink, the more you'll feel like dancin! 
12oz/342g
---