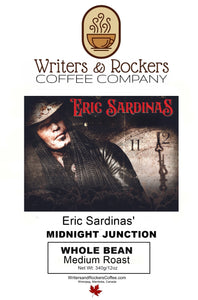 Eric Sardinas' Midnight Junction
Regular price
$15.00
$0.00
Unit price
per
Introducing Eric Sardinas Midnight Junction Coffee Blend: A Bluesy Awakening in Every Sip! 
Unleash the soulful spirit of the blues with Eric Sardinas Midnight Junction Coffee Blend. Crafted with precision and passion, this medium roast Colombian Supremo is a harmonious blend that awakens your senses like the first notes of a blues guitar.
Midnight Junction - The Bluesy Awakening: Inspired by the iconic blues guitarist Eric Sardinas, Midnight Junction Coffee Blend is a melody of Colombian Supremo beans, renowned for their smooth and balanced flavor profile. As the sun rises, let each sip be your morning serenade, setting the tone for a day filled with rhythm and inspiration.
Slide into the Day: Just like Eric's mastery of the slide guitar, this coffee blend slides smoothly into your cup, leaving behind a trail of rich, medium-roasted notes. The Colombian Supremo beans bring a symphony of flavors, from hints of cocoa to a touch of citrus, creating a perfect balance that lingers on your palate.
Why Morning Glory Coffee Blend?
Bluesy Awakening: Kickstart your day with the soulful notes of the blues encapsulated in every sip.
Colombian Supremo Elegance: Experience the refined taste of medium-roasted Colombian Supremo beans, known for their exceptional quality.
Balanced Harmony: Let the harmonious blend of flavors elevate your coffee experience, just like a well-played blues composition.
Experience the Blues in Every Sip: Elevate your coffee ritual with Eric Sardinas Midnight Junction Coffee Blend. Let the bluesy awakening become a daily rhythm, setting the stage for a day filled with creativity and inspiration.
340g/12oz
---