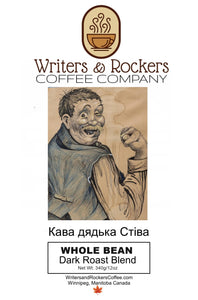 Jacob Maydanyk's Uncle Steve's Coffee
Regular price
$15.00
$0.00
Unit price
per
Born at Syvdovi, Ukraine on 20 October 1891, Jacob Maydanyk, attended a textile-ornamenting academy in Krakow, before coming to Canada in 1911. After teaching in several rural Manitoba schools, including St. John Kant School and Olha School (1916), he moved to Winnipeg and opened the Providence Church Goods Store, which he operated until 1979.

A talented writer, painter, scupture and cartoonist, Jacob created "Vykjo Shteef Tabachniuk" (Uncle Steve Tobacco), a satirical figure who appeared in the 1920s in the Canadian Farmer and other newspapers across Canada. He compiled a book of his cartoons in 1931 which sold over 10,000 copies. It is believed to be the first Canadian comic book and was reprinted in 1977.

"Jacob was my Great Uncle. His sister was my Great Grandmother. I remember, I must have been 5 or 6 years-old, my Grandfather taking me to Jacob's store. I recall being in awe of all the things on display. Him and Jacob would talk (in Ukrainian of course) for hours over coffee. I had no idea what they were saying, but I can remember there was a lot of laughing and coffee."

Jacob also did church iconography, some are still on display in Urainian Churches across Canada. He also wrote both plays and poems. The National Film Board produced a documentary on Jacobs's life in 1983 titled Laughter in My Soul. He died at Winnipeg on 3 June 1984 and was buried in the Elmwood Cemetery.

The proceeds from Uncle Steve's Coffee are going to support Oseredok Ukrainian Cultural and Educational Centre in Winnipeg. Oseredok is one of North America's largest and most unique Ukrainian cultural and non-profit heritage resource centres with a museum, art gallery, library, archives, cultural programming and a boutique.
Colombian Supremo
340g/12oz
---