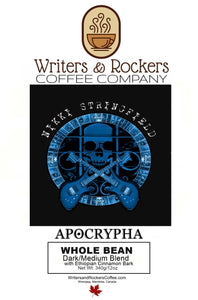 Nikki Stringfield's Apocrypha
Regular price
$15.00
$0.00
Unit price
per
Unleash Your Inner Rockstar with Nikki Stringfield's Apocrypha Coffee Blend
Welcome to a world where music and coffee unite to create a blend that's as bold and electrifying as the artist behind it. We're proud to introduce Nikki Stringfield's Apocrypha Coffee Blend, a harmonious mix of dark, light, and just the right amount of spice that's sure to make your taste buds stand up and take notice. Named after her first solo album, "Apocrypha," this coffee is a tribute to Nikki Stringfield's journey through the world of music and her passion for the perfect brew.
The Blend: Nikki's Apocrypha Coffee Blend starts with the finest Colombian Supremo beans, known for their smooth and rich flavor. To give it that extra kick, Nikki adds a dash of Ethiopian Cinnamon bark, creating a spicy twist that will awaken your senses with each sip. Just like her music, this blend is a fusion of elements that come together to create something truly extraordinary.
About Nikki Stringfield: Hailing from Dallas, Texas, Nikki Stringfield is a powerhouse in the world of rock and metal music. She's taken stages around the globe, touring internationally with the popular tribute band, The Iron Maidens, and showcasing her guitar-shredding skills with Heaven Below. But Nikki is not just a talented guitarist; she's also a solo artist, singer, and songwriter. Her first EP, "Harmonies For The Haunted," marked her transition into a multifaceted musician, showcasing her lead vocals, songwriting, and guitar prowess.
Nikki's musical journey has been diverse, including acoustic residencies at the Hard Rock Cafe in Hollywood, California, proving her versatility and rounded talents. Her influence in the industry is undeniable, as evidenced by her two signature Schecter Guitars bearing her name.
Apocrypha Album Release: Nikki Stringfield's full-length debut album, "Apocrypha," was released worldwide September 29th, 2023. This highly anticipated album is a testament to her artistry and is already leaving a mark on the music scene.
Catch Nikki on Tour: Whether it's with her solo band, The Iron Maidens, or Heaven Below, you won't want to miss the chance to experience Nikki's electrifying performances live. Keep an eye out for tour dates near you and get ready to rock out with one of the industry's most talented and dynamic musicians.
Order Your Apocrypha Coffee Blend: Unleash your inner rockstar and savor the bold and spicy flavors of Nikki Stringfield's Apocrypha Coffee Blend. It's more than just a coffee; it's a tribute to music and the passionate spirit of an extraordinary artist.
Rock Your Senses with Every Sip. Order Now.
340g/12oz
---