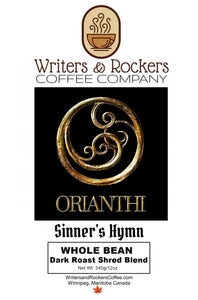 Orianthi's Sinner's Hymn
Regular price
$15.00
$0.00
Unit price
per
Elevate Your Senses: Orianthi's Sinner's Hymn Dark Roast Coffee Beans
Indulge in a coffee experience that resonates with the soul-stirring melodies of rock 'n' roll – Orianthi's Sinner's Hymn Dark Roast Coffee Beans. Crafted with precision and passion, these beans promise a symphony of flavors that awaken your taste buds.
Dark Roast Harmony: Just like the captivating chords of a guitar, our dark roast brings out the bold and intense nature of Colombian Supremo coffee beans. The Sinner's Hymn blend offers a deep, robust profile that's perfect for those who crave a coffee that stands out.
Unforgettable Flavor: Immerse yourself in a world of taste where notes of dark chocolate, smoky undertones, and a touch of caramel converge. Every sip is a journey into richness and complexity that lingers on your palate.
Craftsmanship in Every Cup: Designed for the true coffee aficionado, Orianthi's Sinner's Hymn blend undergoes a meticulous roasting process that respects the intricate flavors while ensuring a smooth and velvety texture.
Embrace the Darkness: Whether you're greeting the dawn, seeking a moment of solace, or winding down after a dynamic day, Sinner's Hymn Dark Roast Colombian Supremo Coffee Beans enrich every moment with a touch of boldness and indulgence.
Inspired by Music: Infused with the soulful energy of Orianthi's music, this coffee blend captures the essence of her artistry. Let each cup be a tribute to the powerful melodies that continue to inspire and uplift.
A Brew of Integrity: Just as a song carries emotions, our Sinner's Hymn blend carries ethical values. Made with Colombian Supremo beans sourced through responsible practices, each sip you take supports sustainable agriculture and fair trade.
Elevate your mornings and elevate your senses with Orianthi's Sinner's Hymn Dark Roast Colombian Supremo Coffee Beans. Order your bag today and let every sip be a celebration of music, flavor, and life's exceptional moments. Embrace the richness of your coffee – because true taste, like music, is an experience worth savoring.

Orianthi, is a world renown guitarist, singer, and songwriter who has sold millions of albums and performed with Michael Jackson, Carlos Santana, Alice Cooper, Christina Aguilera, Steve Vai, Carrie Underwood and many more.

---