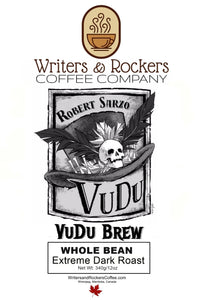 Robert Sarzo's VuDu Brew
Regular price
$15.00
$0.00
Unit price
per
Introducing "VuDu Brew": The Perfect Harmony of Rock and Coffee!
Prepare to embark on a sensory journey like no other as legendary guitarist Robert "The VuDu Man" Sarzo joins forces with Writers & Rockers Coffee Company to bring you "VuDu Brew" – a coffee blend that rocks as hard as it brews!
A Blend Fit for a Rock Legend
Robert Sarzo's mastery of the guitar has thrilled audiences worldwide, and now, he's channeling that passion into crafting the perfect coffee blend. "VuDu Brew" is a fusion of Espresso beans and dark roasted Colombian Supremo coffee beans, delivering a harmonious blend that's as bold and exhilarating as a rock 'n' roll riff.
Robert Sarzo, widely recognized for his exceptional guitar skills, has graced the music industry for decades with his talent and passion. Known for his contributions to iconic rock bands such as Hurricane, Queensryche and more, Sarzo has established himself as a true rock legend. Beyond the stage, he's a connoisseur of fine coffee, making him the ideal collaborator for this unique coffee venture.
Key Features:
Exceptional Taste: "VuDu Brew" is a symphony of flavors, combining the robust intensity of Espresso with the velvety smoothness of Colombian Supremo. Every sip is an adventure for your taste buds.
Rockstar Energy: Need a boost of energy before hitting the stage or tackling your daily routine? "VuDu Brew" provides the perfect caffeine kick to fuel your passion and creativity.
Versatile Brew: Whether you prefer a strong shot of espresso or a rich, full-bodied cup of coffee, "VuDu Brew" caters to your every brewing desire. It's the ideal choice for both coffee connoisseurs and casual sippers.
Mystical Inspiration: Robert Sarzo's "VuDu Brew" captures the essence of his music and the magic of coffee in a single blend. Let its enchanting aroma and bold flavor transport you to another realm.
The Perfect Gift for Music Lovers and Coffee Enthusiasts!
Searching for a gift that truly rocks? "VuDu Brew" is the answer. Whether you're surprising a fellow music aficionado or treating yourself to an extraordinary coffee experience, these beans come beautifully packaged, ready to inspire and delight.
Grab Your Ticket to the VuDu Experience!
The stage is set, and the coffee is brewed – it's time to savor the magic of "VuDu Brew." Join Robert "The VuDu Man" Sarzo and Writers & Rockers Coffee Company in this limited-time collaboration that combines the passion of rock 'n' roll with the richness of coffee culture.
340g/12oz
Order Your "VuDu Brew" Today and Brew Like a Rockstar! 
---